How To Create A Successful Instagram Account For Your Dog
Joining the dog community on social media is so much fun. Through my work as founder of MadPupLife.com, I've met countless people who share the same love for dogs as I do. Whether you want to create an Instagram account for your dog for fun or for possible profit, I've got some great tips to help you get started!
Create a unique Instagram handle
The very first step when creating your an Instagram account for your dog is creating a unique handle. The handle is the username you will use to login and also the name your followers will see – and remember you by! Planning out a creative and catchy Instagram handle is key. Anything too generic can often get overlooked, so think about using puns or catchphrases to grab people's attention. The quirkier the better!
I decided to go with @madpupmattis to play off of the well-known Marine and Secretary of Defense James "Mad Dog" Mattis.

Take a high quality profile picture for the Instagram account for your dog
The second step would be to choose a high-quality photo of your pet to use as their profile picture. It's best to choose an up-close photo so people can see their face. But, if you have something with bright colors or an eye-catching background definitely go with that.
Write a short bio
The third step to setting up an Instagram account for your dog is to design a biography that is short and sweet. There are many different tactics to use when creating a "pretty" bio, but I chose to write short statements on different lines. It helps people quickly read this information without having to scan through a long "ugly" paragraph. Make sure to include fun facts like where you live, how old you are, what breed you are, or even discount codes and links to your website.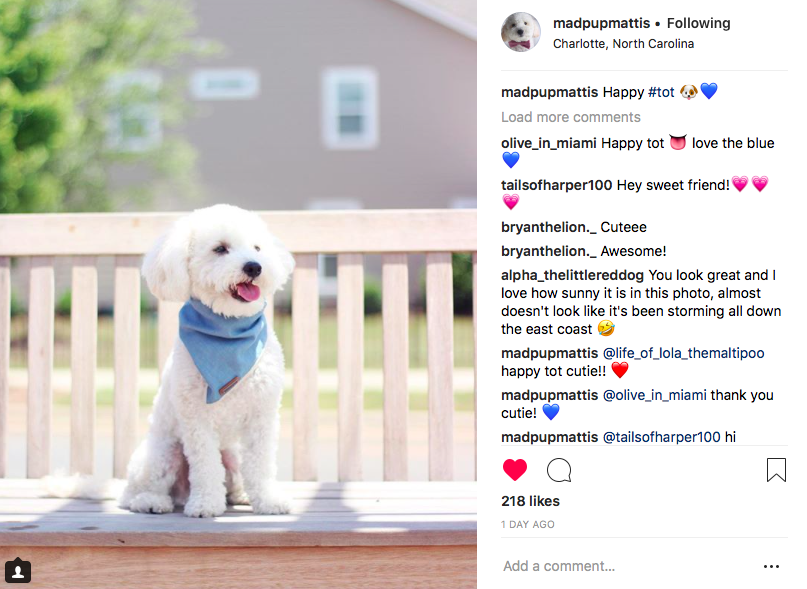 Post high-quality photos
Once your profile is completely setup is when the fun begins! You finally get to share photos of your beloved pet(s). It's honestly one of my favorite hobbies and although I wish I could share every single picture (#dogmomprobs) it's better if you don't.
To have a successful Instagram, you should pick high-quality photos with great lighting. Outdoor photos are always a great start for someone who doesn't know much about lighting. Just bring your pup outside and throw on a bandana or bowtie and snap a few pics. Decide on which one you think is best and share it to the 'gram.
Make captions fun
When sharing photos, you'll want to think of a fun and engaging caption to grab followers attention. You can use hashtags, (we will speak more on this in a minute), puns/jokes, or ask questions. The best way to achieve lots of engagement on your photos is to give people something to respond to.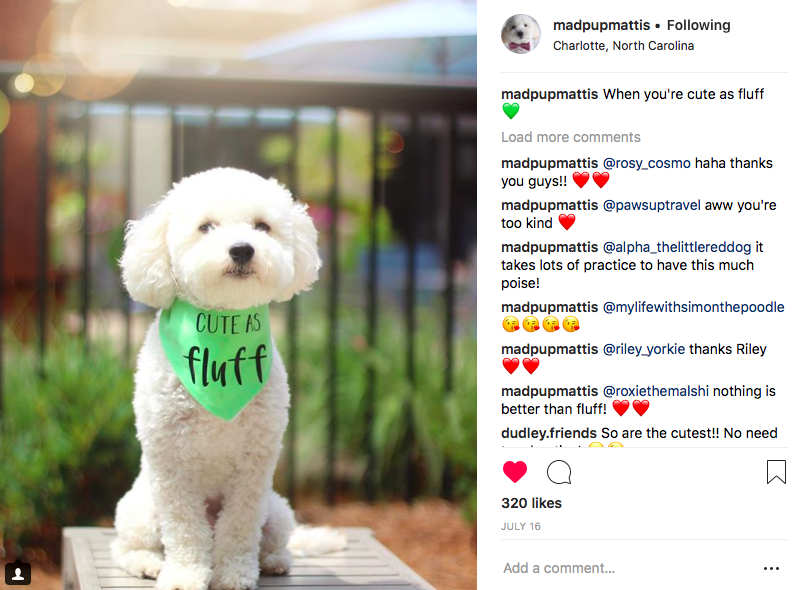 Use props in photos
Another way to grab user's attention is by adding in props to give your pictures some depth and dimension. Props can be anything from dog toys, treats, to bandanas/bowties, clothing, etc. In this picture, Mattis' "cute as fluff" bandana not only describes him but is funny – and people will want to comment and share their thoughts.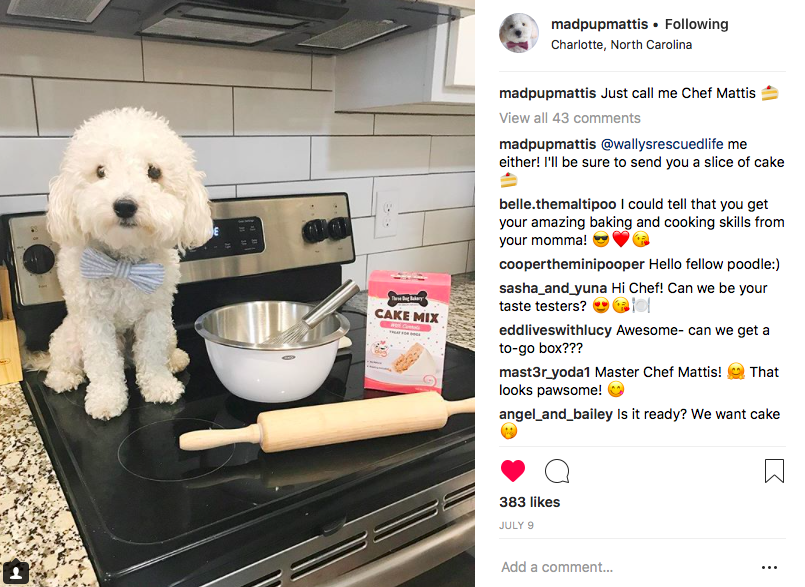 In this photo, I got Chef Mattis ready for a picture by including a few household baking items along with dog cake mix and pretending like he was about to bake a cake. One thing that people love is humanizing dogs – so be creative – the options are endless.
Make use of hashtags
After posting your pictures and writing our great captions, the last step is to choose hashtags. Hashtags are Instagram's way of letting you connect with people across the globe that share similar interests as you. Common hashtags in the dog community are #dogsofinstagram #doglover #dogoftheday. But these hashtags can sometimes generate too many pictures and yours can get overlooked, so create some unique hashtags of your own and place them below your caption or in the comments of your picture.
My very last tip to create a successful Instagram account for your dog is to have fun! Having fun is all that really matters in an online world. Engaging with other dog accounts and making new friends every day will grow your following and create a great environment for you to partake in.
Originally posted on EverydayDogMagazine.com