This post contains affiliate links, meaning that if you choose to click through and make a purchase, Sass Magazine may receive a small commission at no cost to you. We only suggest products we love!
Message tees, motivational tees, inspirational tees, and funny or witty tees can make such a unique, thoughtful and personal gift! Wear them in the warmer months with shorts or a flowy skirt. Or, pair them with a blazer, jeans and boots for a business casual look. They are great conversation starter pieces and a way to show off your unique style, plus these soft cotton tees are sooooo comfty!
---
Empowered Women Tee
This women's empowerment motivational tee from Crazy Dog comes in six different colors on a soft cotton blend.
Price: $15
---
Girl, You Got This Tee
A perfectly positive message from Mess in a Bottle, a unique, black woman-owned business that derived from the idea of finding a message in a bottle at sea.
Price: $27
---
Be the Good Tee
Another inspirational and motivational message, Believe there is Good in the World AND Be the Good. This soft cotton, V-neck tee will spread positivity all day long!
Price: TBD
---
Inhale Exhale Tee
This soft, yoga-inspire V-neck tee from Berry Tees comes in pink, dark gray and black. A great shirt to wear with a pair of jeans, or to bring to the gym.
Price: $15
---
Walk the Dog Tee
The perfect gift for any dog mom! This custom t-shirt from our friends at Wear, Wag Repeat is available in navy or berry. (PS-check out more gift ideas for pet lovers and dog moms here!)
Price: $32
---
Making Magic Happen Tee
This Magical tee from ZAWAPEMIA comes in six different colors and sizes. Great to wear with shorts, or with jeans and a blazer.
Price: $13
---
Classy Sassy Tee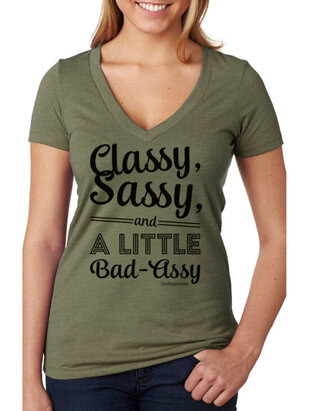 Our favorite motivational tee (though we may be biased!). Grab a custom-designed V-neck shirt from Sass Magazine in army green for all your loved ones who are sassy, classy AND Badassy!
Price: $24
---
Creative AF Tee
This witty and bold message tee from the Joi Knows How shop makes us giggle everytime! Such a unique and personal gift idea for any artists, makers, or creatives on your gift list!
Price: $28
---
Manifest That Shit Tee
the Manifest That Sh!t motivational black tee. It's guaranteed to make your feel empowered and stylish. This tee is made by a small woman-owned business, Badd Boss, located in Fairburn, Georgia.
---
Kim is the owner and publisher of Sass Magazine, as well as the owner of Sass Studios, a boutique graphic design studio in Frederick, MD. When not in the office, Kim can be found doing some of her favorite hobbies—reading a book, dancing, traveling, or playing with her rescued pitbull.