There is a buzz about Munich, Germany, these days because Oktoberfest is BACK! After a hiatus of two years due to the pandemic, this beloved event is taking place once again. Whether you have your tent reservations booked or are still wondering "what is Oktoberfest?" we've got some info you'll want to know.
Oktoberfest is a glorious festival held annually in Munich, Germany. This event first took place on October 12, 1810, celebrating the marriage of Princess Therese von Sachsen-Hildburghausen and the crown prince of Bavaria (who would go on to become King Louis I). This celebration was five days long, and over time it expanded into an epic 2-week festival that includes a parade, large beer halls, amusement rides, music, and dancing. Wondering why Oktoberfest is celebrated in September? Simple answer! As the festival got longer, the starting dates were pushed back into September because the weather is generally better and the days are longer.
You may also be interested in:
While there is no shame in embracing the tourist life when traveling or attending Oktoberfest, there are a few things locals want you to know.
Oktoberfest Lingo
Even if you speak German, the Bavarian dialect is tricky. Key phrases or words you will hear thrown around at Oktoberfest can come across as confusing, so let's break it down.
O' Zapft is – this phrase is Bavarian dialect for the German phrase "Angezapft ist es" which in English means "it is tapped." In 1950, the mayor of Munich tapped the first keg of beer and proclaimed, "O' Zapft is." This tradition goes on to this day.
Wiesn – This is what most locals call Oktoberfest. The grounds on which Oktoberfest takes place is called the Theresienwiese… Wiesn, short for Theresienwiese.
Prost – Essentially, it means "cheers." You hold up your glass and clink it with your friends (while making eye contact of course) Prost is from the phrase "Ein Prosit der Gemütlichkeit" which is a song you will become very very very familiar with at Oktoberfest.
Maßkrug or die Krüge – refers to the liter beer stein, singular and plural
Oans, zwoa, drei, g'suffa! – Bavarian for "Eins, zwei, drei, gesoffen!" which is German for "One, two, three, drink!" Once you are there, you'll pick up on this one pretty quickly.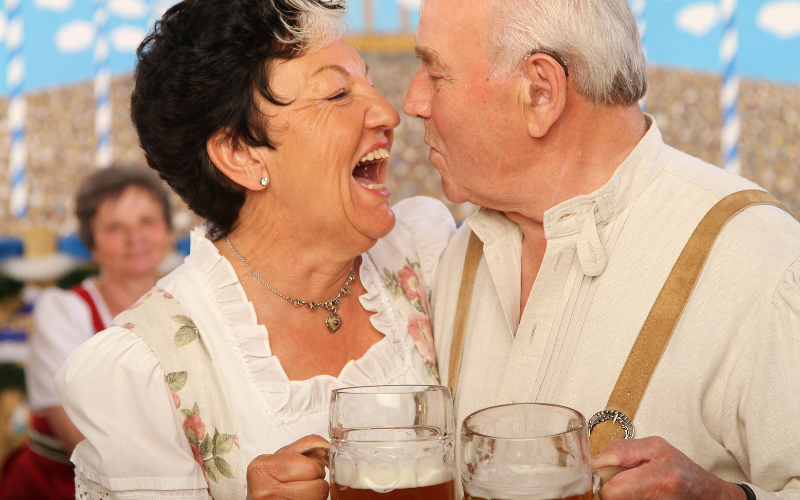 Looking the Part
Don't be afraid to dress the part. At Oktoberfest, locals and tourists alike wear traditional Bavarian and Bavarian-inspired clothing. For women, it is a Dirndl and for men, it's Lederhosen.
A Dirndl typically consists of a sleeveless dress with a blouse underneath and an apron at the waist. (It's what the St. Pauli Girl wears).
Lederhosen literally translates to leather pants. It is the quintessential embroidered leather pants with suspenders typically worn with a plaid or white shirt.
There are many places in Munich to get a Dirndl or Lederhose but remember, you get what you pay for. The same goes for buying in the US before you go. There are pluses and minuses to buying in Germany vs. online. Do what makes you most comfortable. It's also worth noting that if you decide to buy a Dirndl or Lederhosen, there are plenty of places to wear it in the US. DO NOT mock the culture by wearing a dirt-cheap Halloween costume, goofy image t-shirt with fake cleavage, or a lederhosen blow-up costume. Locals will find it insulting and it's simply not cute.
More Oktoberfest Tips
Germans love cash. While it seems counterintuitive to travel with cash and coins at a large event, it is the preferred payment method. But not to fear, there are plenty of ATMs throughout the grounds.
There is more to do than drink beer. The Wiesn is full of entertainment beyond alcohol consumption. There are amusement park rides, Bavarian dance groups performing, delicious food, and live bands playing classic Bavarian polkas, Oktoberfest favorites (like John Denver's Country Roads), and Schlagermusic (a style of German pop).
However, if you are going primarily for the epically large beer tents serving epically large beers, don't ask for a Coors Lite. You will only find German beer from Augustiner, Hacker-Pschorr, Hofbräu, Löwenbräu, Paulaner, and Spaten. And they are typically served in one-liter glass mugs, so be mindful of how many you put back and don't skip arm day at the gym.
Also, book train tickets, tent reservations, and accommodations early. Everything books up quickly and without having planned ahead, you could find yourself disappointed, stranded or thirsty (or all three!).
So what is Oktoberfest? It's a blast!
Erika is the founder and designer of Chicago-based, Rare Dirndl, a clothing and accessories company specializing in designs that help you connect with your German heritage without sacrificing your personal style.