Eating healthy doesn't have to be complicated. With the right food choices and a helpful, healthy grocery list, you can easily make sure that what you buy at the store is good for your body. This guide will help you create a healthy grocery list packed with nutritious items to get you started on your wellness journey and improve your eating habits.
You Might Also Be Interested In:
Plan Ahead
Healthy grocery shopping requires a bit of forward-thinking. Before you head to the grocery store, take the time to think about what you plan to cook and eat over the next few days or week. That way, you can make sure you buy only items you need and don't waste money on food that might go bad. Planning ahead will also save you time when it comes to prepping meals and snacks!
Make a List – and Stick to It!
To save time and money, make a grocery list before you head to the store. This will help make sure you buy only what you need and can avoid impulse purchases. Consider adding categories to your list like produce, protein, grains, dairy, etc. This will not only help you keep track of everything, but also monitor your budget! When possible, compare each product's nutrition label to ensure that healthier option wins out.
Shop the Perimeter of the Store
Generally speaking, the healthiest food options are located around the outside perimeter of the grocery store. That's where you'll find fresh produce, lean proteins and dairy products. Avoid the middle aisles as much as possible as they are usually full of processed, packaged and junk foods. This is not to say that you never use these aisles – some staples like canned beans, pasta and noodles can be found here – just stick to buying the healthier options when possible!
Choose Fresh and Whole Foods Whenever Possible
Aim to fill your grocery list with whole, unprocessed foods such as fresh fruits and vegetables, lean proteins like fish and chicken, nuts, beans and legumes, healthy fats like olive oil and avocados, whole grains like quinoa or brown rice. Not only are these better for you but also tastier! While some processed foods such as salad dressings, condiments and bread have a place in our diets, they should not be the bulk of it.
7 Healthy Grocery List Must-Haves
Fruits and Vegetables
Fresh fruits and vegetables are key to a healthy grocery list, as they contain numerous vitamins, minerals and antioxidants that are beneficial for our health. Try to focus on local, seasonal produce whenever possible as it is typically fresher and can be more nutritious than items that have been imported from afar.
Whole Grains
Whole grains are another essential item in your grocery basket. They provide valuable fiber, protein, vitamins and minerals that keep you full and satisfied throughout the day. Good choices include oats, quinoa, brown rice and whole-wheat bread or pasta.
Protein
Lean proteins such as fish and poultry help us meet our daily needs for essential amino acids while also providing a variety of other nutrients such as iron and zinc. Plant-based proteins such as soy, lentils or chickpeas are also great options if you're trying to reduce your meat intake or just enjoy a good vegetarian meal.
Dairy Products
Low-fat dairy products like nonfat Greek yogurt can provide plenty of calcium without taxing your waistline with unhealthy fats or calories. Nonfat milk is also an excellent choice for getting your daily dose vitamin D while avoiding the added fats found in their full-fat counterparts.
Healthy Fats & Nuts
Foods high in healthy fats such as olive oil, avocados, fatty fish (salmon) and walnuts are important components of any healthy diet plan as they nourish our cells while helping us feel fuller longer between meals. Not only do they contain heart-healthy omega-3 fatty acids but they also provide necessary sources of energy that can last throughout the day!
Herbs & Spices
Adding herbs and spices to your meals adds flavor without increasing fat content or sodium levels like many other condiments do when used in excess sweetness . Herbs offer natural antioxidants which help protect against disease; so don't forget about them when shopping for food!
Water
Staying hydrated is essential for optimal health; not only does it help flush out impurities but it helps regulate temperature as well! Investing in a few bottles of water each week will ensure that you have clean water at least 8 cups on hand at all times! Need your water to be a little more flavorful? Try some of these simple and easy infused-water recipes!
A Few More Tips
Eating healthy starts with your grocery list and can be easy if you know what changes to make. Read nutrition labels to make sure you know what's in the food you're buying. Finally, don't forget to check for sales or coupons that can help you save money on healthier items.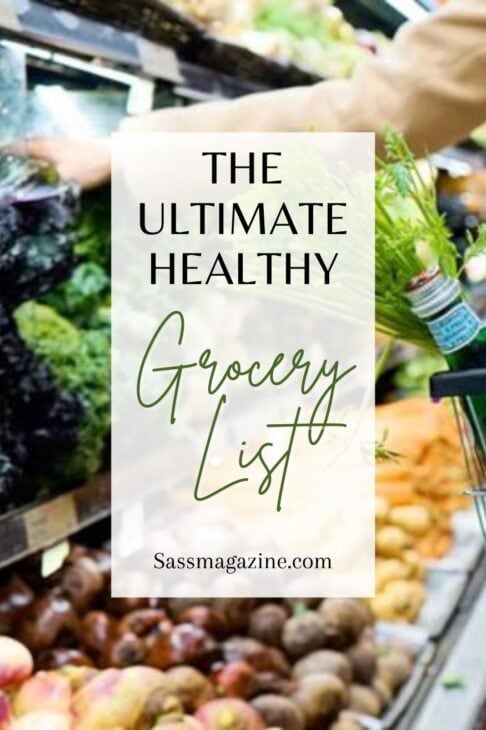 Kim is the owner and publisher of Sass Magazine, as well as the owner of Sass Studios, a boutique graphic design studio in Frederick, MD. When not in the office, Kim can be found doing some of her favorite hobbies—reading a book, dancing, traveling, or playing with her rescued pitbull.