Julie Stevens is a mom, product designer, serial entrepreneur and the Founder & Product Designer of BeTini Spirits. She started making her own clothes by the time she was 8 years old and made pocket money by sewing cheerleader uniforms for her friends in junior high. Julie grew up in a strict, military family with seven kids and she and her siblings were taught that there are no excuses, there are only results! Having that kind of mindset from a very young age really shaped them and made her who she is today.
You Might Also Be Interested In
Julie's education in graphic design, business and fashion design has helped in her creative projects. Her signature aesthetic balances beauty and function. She absolutely loves the process of design and expressing herself through the use of color, art, and natural elements. When she designed the interior of her home in California, she included natural elements and added one-of-a-kind pieces to her design portfolio. It even includes a floating staircase inspired by a seashell and a whimsical tree-shaped shelving unit. Julie's most delicious creation is BeTini Spirits, a ready-to-drink luxury cocktail! BeTini has won top awards for flavors and package design!
Read our Q&A with Julie Stevens and learn about this incredible product and business!
How did you get to where you are today?
I was inspired to create BeTini, after a girls weekend away. I hosted all my mom friends, and even though I had planned ahead with hors d'oeurves and drinks, I still found myself in the kitchen making cocktails and missing out on the fun. That sparked the idea to make a real, ready-to-drink cocktail. I created BeTini with the goal of making entertaining deliciously easy, so that you could just chill & pour a cocktail and spend more time bonding with friends
Having a design background really helped. I had taken other products to market so I didn't hesitate to jump into the spirits world. I did lots of research on products and flavors and hosted tasting parties in my kitchen to see which flavors appealed to the most people. After trying tons of different flavor combinations, BeTini was born. So far we have six classic cocktails in our line and they are all low-calorie, low-carb and gluten-free. Designing our signature 750ml frosted hourglass bottle was great fun. I had to learn about different caps and closures, alcohol expansion ratios, and glass finishes before finalizing the design, and I'm really grateful to the people in the glass manufacturing industry, who had patience with me and helped me through that learning curve.
I recently designed the packaging for our second line, BeTini Minis, so you can take happy hour al fresco! Our popular Minis are the perfect size for on-the-go cocktail lovers and come in packs of 4 recyclable 200ml PET bottles in the design of a sophisticated stemless champagne flute. It's been so amazing to see BeTini making a splash with consumers and within the spirits industry. A little idea and a lot of hard work has brought me to where I am today and our cocktails are now available in select retail stores and online nationwide. Our boozy cocktails feature three delicious martinis – Pink Cranberry Cosmo, Appletini and Lemon Drop. We also have an authentic Margarita, a refreshing Mojito and a fruity Tropical Sunset rum cocktail. All of our cocktails have only 30 Tini calories per ounce.
What has been the biggest challenge you have overcome in order to achieve your goals?
Being a female founder offering a product that's super female-driven in a male-dominated space did come with challenges, but I got really lucky and landed a major distributor and an opening order from a major grocery chain. From a production standpoint, the biggest challenge was finding the right suppliers for packaging and co-packing. One thing that I should have researched better (and instead learned the hard way) is that every state has different alcohol laws, and as a brand owner of a spirits-based product, we are not allowed to ship directly to consumers, so we need good distributor partners in each state, or we cannot sell there. This is a big hindrance to growth for start-ups in the alcohol industry, and it even makes it challenging to sell cocktails online.
What are you most proud of?
Of course, I'm proud of the awards that BeTini has won for package design and flavor. But I'm a mom, so I'm most proud of my amazing kids! The way they both chase after their dreams inspires me every day and I find that I push myself even harder to ensure that I'm setting the example to never give up.
What are 3 pieces of advice you could give to our readers?
Celebrate every win! I think a lot of women are like me; we are especially hard on ourselves. We tend to focus on what we are not doing right instead of giving ourselves credit when we achieve milestones. When you launch your own business you will hear a lot of "no's", but keep going and when you hear "yes" – celebrate and hold onto that feeling!
If you are taking a product to market, really take time to do your diligence in finding the right manufacturer. Find out what their capabilities are. It may help to make your design even better.
Sit down and take the time to do a business plan, it really helps you to stay on track and meet your goals.
How do you reward yourself when you've reached a goal or after a hard day of work?
The correct marketing response would be "with a glass of BeTini!" But my favorite thing to do at the end of a day is to walk along a beach or river and dip my feet in the water. That being said, I do enjoy martinis and my favorite BeTini cocktail is to mix our Appletini and Pink Cranberry Cosmo together to make a CranAppletini. It's delicious and the combination of the two colors create a beautiful rose' hue.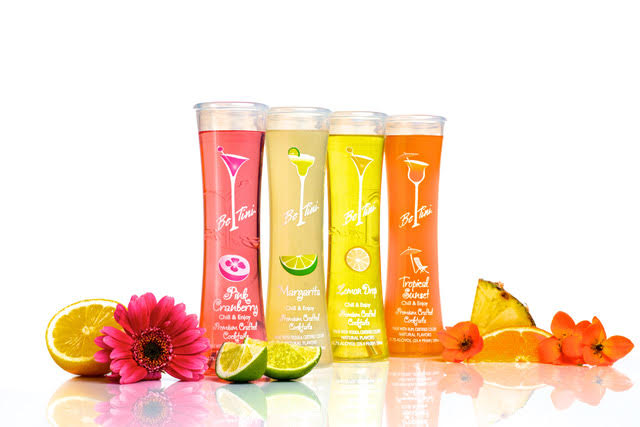 What is one sassy saying or quote that inspires you?
"Nothing is impossible, the word itself says I'm possible!" – Audrey Hepburn
This quote by the fabulous Audrey Hepburn always reminds me that everything is possible!
Is there anything else you'd like to share with our readers?
Make sure you have a good support group! Join an online community of female founders, so you can meet other entrepreneurs and creatives who will support you, encourage you, and help you learn about growing your business. We Are Women Owned is a fabulous platform to join for support and expert advice. It's all about women supporting women and it's a wonderful group of female entrepreneurs.
You can learn more about BeTini and check them out online now!