This season is hands-down my favorite time of the year to watch movies. Who doesn't love snuggling under a blanket in front of the TV? Add cookies and a hot drink, a fire in the fireplace, snow falling outside, and a Christmas tree within eyesight… you've got yourself the perfect situation for watching holiday movies!
The Sass team recently chatted about the movies we come back to year after year around the holidays. Some are obvious (like "White Christmas"), while others aren't quite as holiday-related, yet somehow still seem fitting to watch this time of year. Who doesn't love watching the "Jingle Bell' dance in Mean Girls, or the sentimental scene in "You've Got Mail" when Kathleen Kelly decorates a Christmas tree and waxes poetic about Joni Mitchell?
Go ahead, pop in a movie! Watch one a day from Thanksgiving until the New Year! While you're at it, consider putting together holiday gift baskets for your loved ones, or trying your hand at DIY gift wrapping.
You Might Also Be Interested In:
Article Name and Link Here
Article Name and Link Here
Article Name and Link Here
Article Name and Link Here
It's A Wonderful Life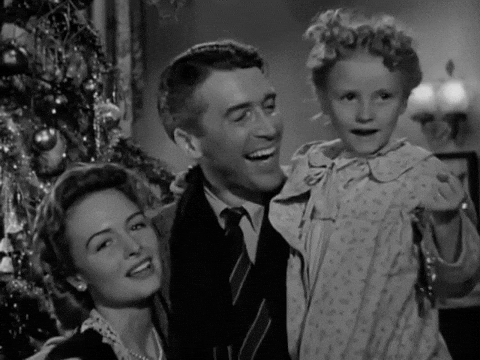 An angel is sent from Heaven to help a desperately frustrated businessman by showing him what life would have been like if he had never existed. A heartwarming movie that will bring tears to your eyes every year.
Elf
Raised as an oversized elf, Buddy travels from the North Pole to New York City to meet his biological father, Walter Hobbs, who doesn't know he exists and is in desperate need of some Christmas spirit. A quirky holiday classic that will always have you laughing.
The Holiday
Two women troubled with guy-problems swap homes in each other's countries, where they each meet a local guy and fall in love.
Holiday Inn
At an inn which is open only on holidays, a crooner and a hoofer vie for the affections of a beautiful up-and-coming performer. A classic like this never fails to put you in the holiday spirit.
Love Actually
Follows the lives of eight very different couples in dealing with their love lives in various loosely interrelated tales all set during a frantic month before Christmas in London, England. All the feels….
White Christmas
A successful song-and-dance team become romantically involved with a sister act and team up to save the failing Vermont inn of their former commanding general. The talent in this moving will have you in awe.
Mean Girls
Cady Heron is a hit with The Plastics, the A-list girl clique at her new school, until she makes the mistake of falling for Aaron Samuels, the ex-boyfriend of alpha Plastic Regina George. It's so fetch.
Gremlins
A young man inadvertently breaks three important rules concerning his new pet and unleashes a horde of malevolently mischievous monsters on a small town.
Little Women
With their father fighting in the American Civil War, sisters Jo, Meg, Amy and Beth are at home with their mother, a very outspoken woman for her time. The story tells of how the sisters grow up, find love, and find their place in the world.
You've Got Mail
Book superstore magnate, Joe Fox and independent book shop owner, Kathleen Kelly fall in love in the anonymity of the Internet both blissfully unaware that he's trying to put her out of business.
The Holidate
Fed up with being single on holidays, two strangers agree to be each other's platonic plus-ones all year long, only to catch real feelings along the way. The comedy it top-notch while still giving you the holiday romance cringe.
A Christmas Story
In the 1940s, a young boy named Ralphie Parker attempts to convince his parents, teacher, and Santa Claus that a Red Ryder Range 200 Shot BB gun really is the perfect Christmas gift. From the setting to the acting, everything about this movie is fun and nostalgic.
A Year Without a Santa Claus
When a weary and discouraged Santa Claus considers skipping his Christmas Eve run one year, Mrs. Claus and his elves set out to change his mind. Some of us have known every word to the Miser Brothers' songs since childhood. A classic claymation holiday movie.
The Princess Switch
Competing in a Christmas baking competition in Belgravia, a Chicago baker bumps into the prince's fiancée–who looks just like her. They switch lives for two days. Get your holiday romance movies in while you can!
Klaus
A simple act of kindness always sparks another, even in a frozen, faraway place. When Smeerensburg's new postman, Jesper, befriends toymaker Klaus, their gifts melt an age-old feud and deliver a sleigh full of holiday traditions. This is a beautiful movie that will have you laughing, feeling, and rich with Christmas spirit.
What are your favorite films to watch over the holidays? We'd love to know!
Laura Rennie is a freelance writer and currently serves as the editorial manager for Maryland Road Trips. She loves reading memoirs, cooking curries and exploring new places. Her most unique travel experiences include sledding in the Alps, getting engaged in London and being stared at in a Korean spa in Seoul.