This post contains affiliate links, meaning that if you choose to click through and make a purchase, Sass Magazine may receive a small commission at no cost to you. We only suggest products we love!
Podcasts are the perfect way for busy women and female entrepreneurs to learn new business strategies, get career advice, and more. We've put together a list of our favorite business podcasts for women. Each of these podcasts will help you get a dose of inspiration as well as actionable tips and insights for your professional journey. Listen to one of these amazing business podcasts for women on your commute, while you're working out, or even in the shower!
You Might Also Be Interested In:
Error, group does not exist! Check your syntax! (ID: 13)
Money Podcasts for Women
Financial Feminist
In this podcast, money expert Tori Dunlap of Her First $100K guides you on how to make more, spend less, and feel financially confident as a woman. With a combination of solo episodes and guest interviews, you'll walk away with resources to get, save, and grow money in order to gain financial freedom while kicking some patriarchal ass at the same time.
Money Girl
Money Girl is hosted by nationally recognized personal finance and business expert, Laura D. Adams. It provides short and friendly personal finance, real estate, and investing tips to basically help you live a richer life. Whether you're just starting out or are already a savvy investor, Money Girl's advice will point you in the right direction.
IFundWomen Show
Women entrepreneurs are the backbone of the small business ecosystem. Yet, women founders often lack the funding, resources, and connections needed to be successful. Each episode of the IFundWomen Show provides a peek into a real-life coaching session between founder Karen Cahn and a fellow women entrepreneur. Eash episode they discuss one business problem that needs solving.
Girls That Invest
Best friends Sim and Sonya are two millennial investors who are extremely passionate about all things investing and personal finance. In their top-rated investing podcast, they break down the intimidating and not-so-well-taught world of investing and growing wealth (minus the jargon) in order to help Millennial and Gen Z women grow their wealth.
Entrepreneur Focused Podcasts
Being Boss
​​The Being Boss podcast hosted by Emily Thompson is an exploration of what it means, and also what it takes, to be a creative business owner, freelancer, or side-hustler. Through interviews and Emily's own entrepreneurial experiences, she explores the mindsets, habits, and tactics of creative ambitions while starting and growing your own business.
The Marie Forleo Podcast
In this podcast, Marie Forleo and her guests share actionable strategies for greater happiness, success, motivation, creativity, productivity, love, health, contribution and fulfillment — often with a lot of laughs. From business, marketing and career advice, to tackling failure, disappointment and fear, to philanthropy and doing our part to make the world a more loving, just and equitable place — it's basically all covered in this podcast.
What Works
What Works explores big questions about who we are & how we want to live that ultimately inform the nuts & bolts of how we do business. Host Tara McMullin talks with small business owners, thinkers, and creatives about the questions that drive them to build more humane and sustainable businesses.
The CEO School
Less than 2% of female founders ever break $1M in revenue. The CEO School is on a mission to change that. Host Suneera Madhani interviews incredible mentors who've made it to the 2% club as well as women well on their way.
Sunset Provisions
A former BigLaw lawyer turned entrepreneur, podcast host Janelle Nicole created Sunset Provisions to help make entrepreneurship more real. She brings real life, loan having, freedom grasping entrepreneurs who have left amazing careers to inspire and also to follow your own entrepreneurial dreams.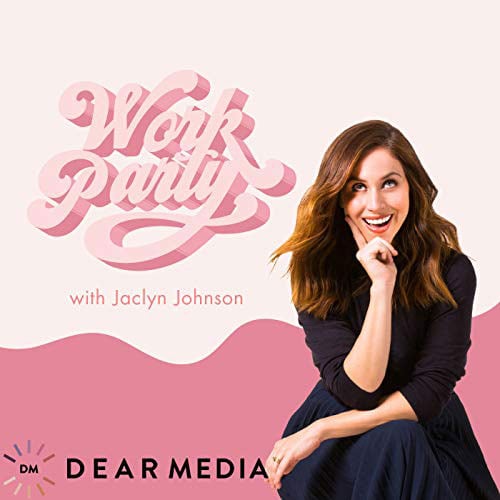 WorkParty
Part Work, Part Party, the WorkParty Podcast is hosted by Create & Cultivate CEO and author of WorkParty, Jaclyn Johnson. This podcast breaks down the business of being a modern working woman by tackling topics from negotiation, to honing your pitch, to creating that killer tagline.
Business Inspiration & Mindset Podcasts
How I Built This
Host and author Guy Raz dives into the stories behind some of the world's best known companies. How I Built This weaves a narrative journey about innovators, entrepreneurs and idealists along with the movements they built.
Entreprenista
Entreprenista's mission is to celebrate the stories of women business leaders and learn from the lessons of the women that are paving the way forward. It is hosted by Stephanie Cartin & Courtney Spritzer, co-founders of the social media marketing agency Socialfly. Each episode goes into the nitty-gritty of growing and scaling a company specifically from women who've done it.
Dare To Lead
Based on Brene Brown's best-selling book, Dare to Lead, this podcast is a mix of solo episodes and conversations with change-catalysts, culture-shifters, as well as many troublemakers. Innovating, creating, and building a better world requires daring leadership in every part of our daily lives.
Business Casual
Join Morning Brew for candid conversations with the biggest names in business. Journalist Nora Ali and comedian Scott Rogowsky ask industry leaders the questions you wish you could ask yourself.
Second Life
Hillary Kerr (co-founder of Who What Wear) discusses the career changes that can come at any age. This podcast spotlights successful women who've made major career changes. As well as those who have fearlessly mastered the pivot.
The BossBabe Podcast
In this podcast, BossBabe co-founders Natalie Ellis and Danielle Canty share their own entrepreneurial experiences. You'll hear the real behind the scenes of building successful businesses, achieving peak performance and learning how to balance it all.
Want to Start Your Own Podcast?
Interested in starting your own podcast, or need help growing an existing one? Try one of these courses from A Beautiful Mess:
Digital Business Podcasts
Goal Digger
A workshop style business and marketing podcast, Goal Digger is packed with actionable step-by-step tips that will help you redefine success and chase bolder dreams. Host Jenna Kutcher brings tangible, actionable advice on topics ranging from social media strategies, productivity tips, business hacks, and more.
Doing It Online
The Doing It Online Podcast with host Kate McKibbin of Hello Funnels, talks all things nerdy business. Plus, she shares digital strategies that actually work to help you build an online business, but better, easier and with a ton more profit.
Her Paper Route
This podcast is hosted by niche site investor and business intermediary Chelsea Clarke. She uncovers the smartest growth-hacking strategies and systems for website investors to buy, scale and sell niche sites. Plus, be prepared to dig into affiliate marketing, list building, content marketing, monetization, and all things blog flipping.
Marketing & Social Media Podcasts for Women
The Influencer Podcast
Hosted by marketing strategist and brand expert Julie Solomon, this chart-topping podcast gives the action steps needed to become a household name in today's influential landscape. It's basically a go-to for all things branding, influence, and marketing.
Strategy Hour
Get strategies and marketing tips to grow your creative business with hosts Abagail Pumphrey and Emylee Williams from Boss Project (formerly Think Creative Collective). Topics cover a wide range of topics, such as growing an online audience, email automation, or diversifying your offers. You may also learn about online sales, social media, affiliate marketing, productivity, as well as how to treat your passion like a real business.
Online Marketing Made Easy
Amy Porterfield shares expert interviews, execution plans, as well as behind-the-scenes secrets from her biggest launches. This podcast will help you break down big ideas and strategies into actionable step-by-step processes designed to get you successful results with a whole lot less stress.
Kim is the owner and publisher of Sass Magazine, as well as the owner of Sass Studios, a boutique graphic design studio in Frederick, MD. When not in the office, Kim can be found doing some of her favorite hobbies—reading a book, dancing, traveling, or playing with her rescued pitbull.